Viewability certification
Together with ABC we are offering an opportunity for ad and measurement tool companies to show how their tools handles Viewability, both for Banners and Video. Our Viewability Certficiation is a stamp of quality.
The purpose of the Viewability Certification is verify if an ad or measurement product measures what it is purpose to measure . The testing is specifically designed to ensure that all products are being tested on a 'like for like' basis. This has been achieved by applying automated testing within a 'walled garden' environment against seven behaviour scenarios across four commonly used combinations of browser and operating systems. All testing is done in accordance with the JICWEBS Product Principles for Viewability.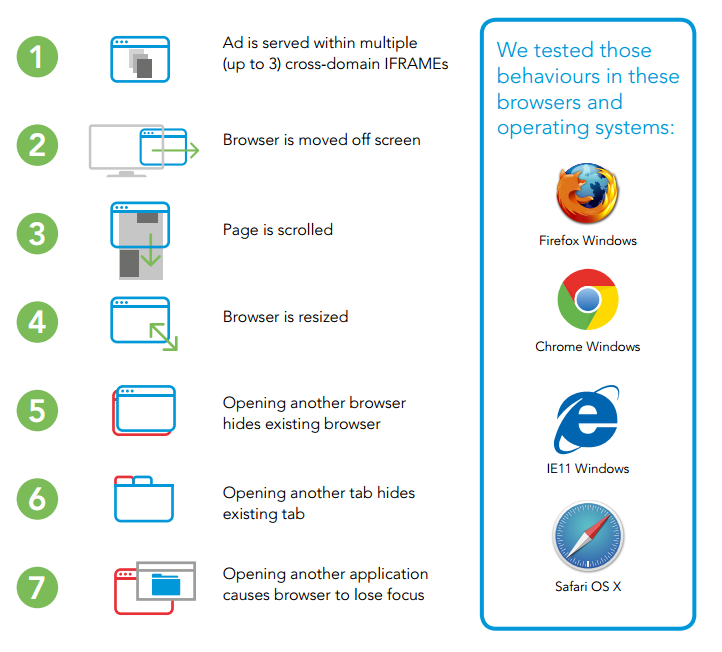 Complementary to the MRC/IAB requirements and recommendations, the testing reflects the requirement for the products to take time measurements every 100 milliseconds. It also requires that they measure both standard and larger formats (i.e. IAB rising star formats) for at least 50% or 30% in-view (respectively) for at least one continuous second.
Viewability for Video
From June 2016 Viewability for Video will be an option for products in the Viewability certification programme. The first products with certification will be announced in the beginning of November 2016. More information is available here.
Viewability for Mobile
Via JICWEBS and the IAB's Viewability working group there is ongoing discussions on what Viewability Principles for Mobile could look like. Current expectations are that the new Certification will be made available second half of 2017.
The Certificate
After testing the issued certificate shows what the product can and can't measure. An example of how the certification could look like is available here. The results are published at TS Digital Nordics and ABC UK websites. The Certification is done in one country but is valid globally.
The results are also displayed in an interactive comparision table at the ABC UK website.
JICWEBS
JICWEBS (The Joint Industry Committee for Web Standards) is made up of representatives from ISBA, the IPA, IAB UK, AOP and the NMA. It was created by the UK and Ireland media industry to ensure independent development of standards and benchmarking of best practice for online ad trading.
More questions?
Look at the FAQ or contact Lars Björkman at lars.bjorkman@ts.se or +46 76 536 24 10